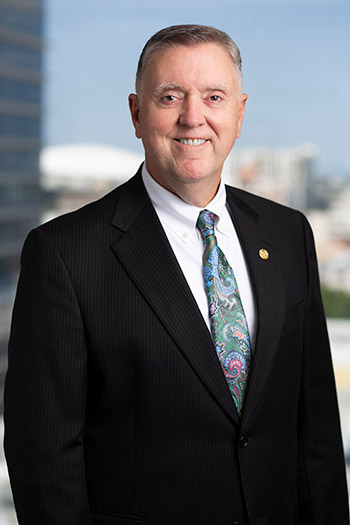 Biography
Gregory P. Holder is a native of Melbourne, Florida. In 1975, he received his B.S. Degree in Engineering and was commissioned as a Second Lieutenant in the United States Air Force. While serving as an Armament Systems Development Engineer in the Air Force, he received his M.B.A. from the University of West Florida in 1978. He was selected to attend Stetson University College of Law under the Air Force Funded Legal Education Program and received his Juris Doctor Degree in 1981. While attending law school, he served as Associate Editor of the Stetson Law Review and authored several published articles.
Upon graduation from law school, he served at a number of stateside and overseas military bases as an Assistant Judge Advocate and Area Defense Counsel. He resigned his Regular Commission in 1988 and accepted a USAF Reserve Commission serving at U.S. Special Operations Command ("USSOCOM") from 1988 through 1996. While serving at USSOCOM, he was awarded his Master Paratrooper Wings, Air Assault Wings and British Jump Wings. He served from 1996 through 2004 as one of only six Air Force Reserve Military Judges. At the time of his retirement from the U.S. Air Force Reserve on 1 February 2004, Colonel Holder served as the Chief Reserve Trial Judge for the USAF. He was elected as a County Court Judge in 1994 and Circuit Court Judge in 1996, serving in virtually every division within Florida's Thirteenth Judicial Circuit. He served as a Hillsborough Circuit Court Judge for 26 years. He served 13 years within the General Civil Division, 10 years in the Felony Division, and presided over the Veterans Treatment Court from 2014 to 2016, where he expanded the role of the court helping veterans overcome service-related issues. In this role, he helped to create the National Model for Veterans Treatment Courts and currently serves on the National Veterans Court Alliance working with U.S. Congressmen and Senators to develop legislation to provide Federal funds and oversight to the nation's Veterans Treatment Courts.
He was awarded the 1996 Florida Bar Military Affairs Committee Clayton B. Burton Award presented annually to an attorney "who demonstrates character and leadership promoting the quality of legal services furnished to military personnel serving in Florida." In 1999, he was also inducted into the Department of Juvenile Justice District VI Hall of Fame for sustained contributions to the reduction of juvenile crime, thereby increasing public safety. He received the Hillsborough County Bar Association Young Lawyers Division, Robert W. Patton, Outstanding Jurist Award for 1999 – 2000. He also received the Olin Mott Joshua House Golden Heart Award in 2006 for his protection of abused, abandoned and neglected children and the University of Phoenix, West Florida Campus, Outstanding Faculty Award for both 2009 and 2018. In 2011, he was selected by the Assistant Secretary of Defense to serve as Florida Chairman of the Department of Defense, Employer Support of the Guard and Reserve supporting over 35,000 military members and their families. The ESGR serves to protect employment rights of our citizen soldiers and recognizes outstanding and patriotic employers for going above and beyond in their support of the Guard and Reserve forces. he has been awarded two Presidential Volunteer Service Awards for service to Florida's Veterans. From 1989 to the present, he has served as both a Board Member, Advisory Board Member and Organizing Committee Member of the Gasparilla Distance Classic Association. Through his over 30 years of service to this organization, he and this Association have raised millions of dollars for local charities supporting the Boys and Girls Clubs and Girls, Inc. In 2014, he became Chairman Emeritus of the Florida ESGR and was awarded the Secretary of Defense Medal for Exceptional Public Service. In 2016, he received the Ad Majorem Award from the Alliance for Global Narcotics Training in recognition and appreciation for his service in the fight against prescription drug abuse. Recently, he received the Veterans Treatment Court Legacy Award for 2017 and the 2019 Military Family of the Year Award presented by the Diversity Action Coalition. In October 2020, he was awarded the Keeping the American Patriotic Spirit Alive award from the Veterans Council of Hillsborough County. On February 9, 2021, Greg Holder was honored by both Tampa Mayor Jane Castor and Tampa City Council with a Proclamation and Commendation for his years of service to this community. In 2022, he was inducted into the Florida Veterans' Hall of Fame in Tallahassee.
He served as a Lead Faculty/Area Chair for the Central Florida Campus of the University of Phoenix and an Adjunct Professor at Webster University until 2020. He served as Adjunct Faculty at USF College of Behavioral Sciences until 2021. He has been married to D. A. ("Dee") Kobliska for 47 years. Dee served over 23 years active duty in both the U.S. Army and Air Force and retired from the Air Force as a Lieutenant Colonel in 1993. She currently works as a certified nurse-midwife providing OB/GYN care. They have two children, U.S. Air Force, Lt. Col. Daniel Holder, C-17 Pilot, and Andrea Holder, a practicing commercial litigation attorney.
Case Experience
ADA Disability Admiralty Aviation Banking & Finance Business Dissolution Commercial/Business Consumer Fraud Contract Disputes Debt Collections Employment Health Care Insurance Land Use/Planning Landlord/Tenant Legal Malpractice Medical Malpractice Military Nursing Homes Personal Injury Police Premises Liability Product Liability Professional Fees Professional Liability Professional Malpractice Professional Negligence Property Damage Unfair Competition Workers' Compensation Wrongful Death
Education
Stetson University College of Law, St. Petersburg, Florida

Juris Doctor – 1981
Stetson Law Review, Associate Editor
1981 Lawyer's Title Guaranty Fund Law Student Writing Award
1981 Victor O. Wehle Trial Practice Award; Faculty Research Assistant

United States Military Academy, West Point, New York

B.S. – 1975
Major: Engineering

University of West Florida
Memberships & Affiliations
Florida Retired Circuit Court Judge
The Florida Bar, Member, 1982 to Present
Hillsborough County Bar Association, Member, 1988 to Present
U.S. Supreme Court
Supreme Court of Florida
U.S. District Court for the Middle District of Florida
U.S. District Court for the Southern District of Florida
U.S. Court of Appeals for the Armed Forces
National Academy of Distinguished Neutrals
Department of Defense Florida Employer Support of the Guard & Reserve (Chairman Emeritus)
Windstorm 2022 Certified Umpire Training
Mediation 70%
Arbitration 15%
Expert Witness 5%
Special Master 5%
Insurance Umpire 5%
Florida, 1982
U.S. District Court Southern District of Florida, 2020
U.S. District Court Middle District of Florida, 2020
Supreme Court of the United States of America, 1998
Chairman of the Board, MacDill Federal Credit Union, 1987 – 1995
Federal Credit Union Volunteer of the Year, 1994 – 1995
Florida Bar Military Affairs Committee Award of Excellence, 1995 – 1996
Department of Juvenile Justice, District VI Hall of Fame, 1996 – 1997
Florida Chairman DOD Employer Support of the Guard & Reserve, 2011 – 2014
Published Works
The Implied Warranty of Habitability: Does it Exist in Florida Leaseholds?, 10 Stetson L. Rev. 563 (1981), Vol 10 Iss 3, 1981
The Implied Warranty of Habitability Applicable to Florida Leaseholds, The Florida Bar Real Property, Probate and Trust Law Sec., Vol X No. 2, 1982
Languages
Current Employment Position