Our History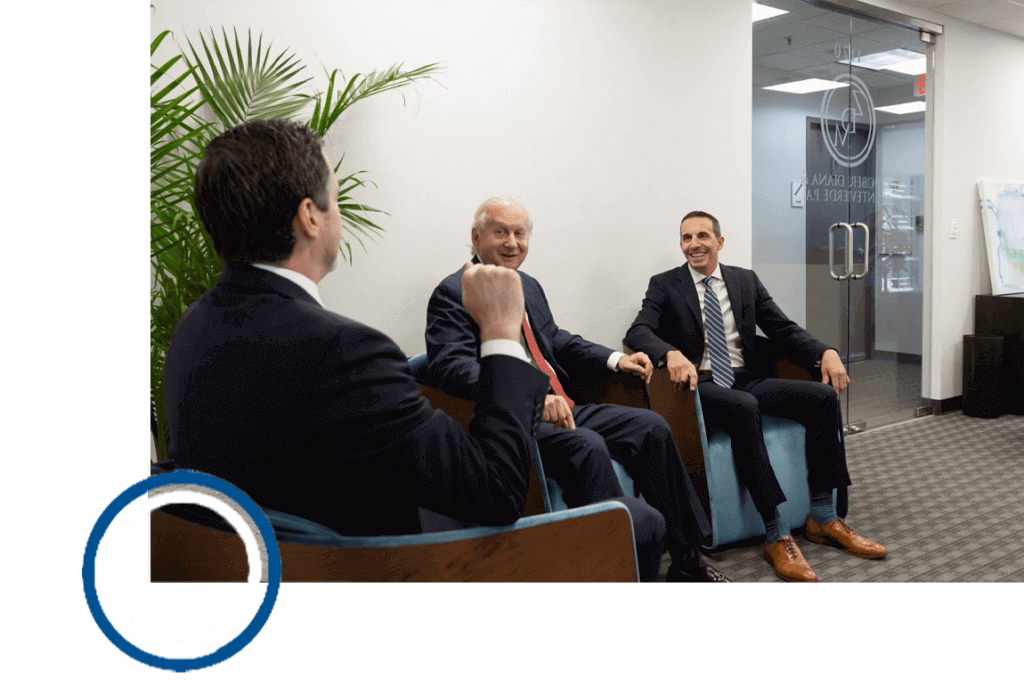 In November of 2015, Fred Zinober and Tom Diana combined their numerous but varied years of practice to form Zinober Diana & Monteverde P.A.. After confirming they shared the same core values of professionalism, diligence and dedication to their co-workers and clients above all, they began their practice as a different kind of law firm. This firm, they vowed, would integrate Tom's technical, business and engineering backgrounds, as well as his unique experience as former general counsel of a major insurance company, with Fred's 35 plus years of trial practice, litigating and trying some of the most complex and high profile cases – civil, commercial and criminal –  in the Tampa Bay area, state of Florida and nationally. Together, they decided to create a firm like no other: one that focuses on teamwork, professionalism, preparation, collaboration and, first and foremost – the relationship between the firm's lawyers, its clients, its adversaries, the judiciary, its employees and each other.
After pledging this commitment to each other, Fred and Tom actively went about recruiting like-minded attorneys and staff to join the team. In April of 2018, the firm discovered Michael Monteverde, a dedicated and talented attorney who was brought into the firm to expand the firm's reach into the South Florida area. Since then, Fred, Tom, the clients and the legal profession have witnessed, through Mike's unending diligence, some of the most complicated, thorough, and committed legal thinking ever experienced in the state of Florida. Based upon this combination, as well as the bevy of incredible legal talent who have joined the firm, Zinober Diana & Monteverde P.A. has experienced unprecedented growth.  Critically, the firm has committed not to accept every case, and even not to seek or even accept every client. Fortunately, due to the firm's success, we have experienced the luxury of being able to select the clients with whom we have a kinship "relationship," and who we choose to represent. Each one is special. Each one is more than a client to us – he, she, or the company becomes a friend, and we treat each client as if he or she was our teammate, and each company as if we, as each individual attorney, is the owner.
There are no employees who join Zinober Diana & Monteverde P.A. by chance. Due to the unique nature of its firm philosophy and culture, the firm has been blessed with attracting attorneys who are drawn to the firm by the same mission. Accordingly, we are honored to have partners and associates who come from high level academic and employment backgrounds. Our lawyers possess credentials rarely seen in a firm such as ours, which far surpass those of other law firms which practice in the same subject areas as Zinober Diana & Monteverde P.A.. All of us are committed team members (which also includes our valuable paralegals and staff) who demonstrate the same level of devotion to our clients. That is our creed, that is our vision, that is our mission, and that is our pledge.
To read about our other attorneys, please see their bios below:
Our Commitment

The practice of law is a relationship business. The highest honor for anyone affirming the oath of the legal profession is to be asked to represent a person – be it a corporate person or an individual – in their time of need. We accept cases on behalf of our clients, in essence, to defend them against whatever attack is presented. In the rare instance when it becomes necessary for us to sue another person or entity, it is because they have harmed our client in some way.
In essence, each case is personal to each one of us, and only those attorneys who share these values become part of this firm. If this is the type of representation you seek, then we are interested in consulting with you in hopes that we can forge a lasting relationship.
Our Practice
Zinober Diana & Monteverde P.A. is, front and center, a trial practice firm. We do not just shift paper from one side of the desk to the other. Although most claims are resolved without a trial, we strongly believe that it is our willingness and ability to prepare a case for trial, and our knowledge of what to do when we get there, that sets us apart in obtaining the best results.
To schedule a consultation with one of our lawyers, please contact us online or call 855-678-3529. We serve all of southwest Florida.