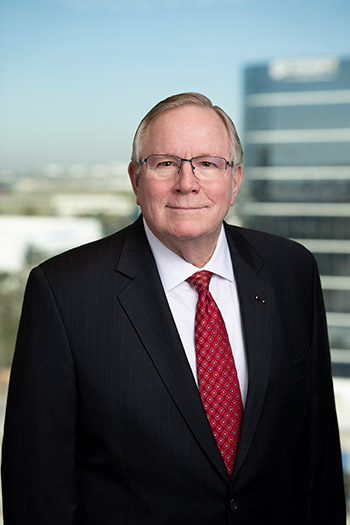 Biography
Emmett Lamar Battles is a fourth generation Floridian. He was born in Jacksonville and grew up in St. Petersburg where he graduated from Lakewood High School in 1969. In 1973, he received his B.A. Degree (Cum Laude) from Florida Southern College in Lakeland and, as a Distinguished Military Graduate, was commissioned as a Second Lieutenant (Infantry) in the United States Army. While serving as an Aide de Camp to a General Officer at Fort Sheridan, Illinois in 1977, Lamar was selected to attend the University of Florida College of Law under the Army's Funded Legal Education Program. He received his Juris Doctor Degree (with Honors) in 1980. Upon graduation from law school, he served in a variety of military assignments as a Judge Advocate General's Corp Officer. Those assignments included: Assistant Professor of Law at the Army Judge Advocate General's School in Charlottesville, Virginia; Litigation Attorney in the Office of the Judge Advocate General of the Army in the Pentagon; Officer in Charge of the Legal Center, Hunter Army Airfield, Georgia; and Deputy Staff Judge Advocate, Office of the Staff Judge Advocate, 24th Infantry Division, Fort Stewart, Georgia. His last military assignment was in the Office of the Staff Judge Advocate, United States Special Operations Command, MacDill Air Force Base in Tampa. Lamar retired as a Colonel in 1995 after more than 22 years on active duty. His military education includes the Judge Advocate General's School Graduate Course (LLM Equivalent-Commandant's List); Armed Forces Staff College; Combined Army and Services Staff School; the Judge Advocate General's Basic Course and the Infantry Officer Basic Course. Lamar received numerous awards and decorations for his service, including the prestigious Legion of Merit.
Upon his retirement from active duty, Lamar served as an Assistant General Counsel with the Florida Department of Transportation, District Seven, in Tampa. In 2001, he was appointed a Circuit Court Judge by Governor Jeb Bush, taking the bench on January 2, 2002 and serving until his retirement on December 31, 2022. His judicial service included presiding for 8 ½ years in the General Civil Division, 3 years in the Felony Division, 7 years in the Felony Trial Division and 2 ½ years in the Juvenile Delinquency Division.
Lamar is the recipient of the Hillsborough County Bar Association Robert Patton Outstanding Jurist Award, the Florida Council on Crime and Delinquency, Chapter 1, Distinguished Service Award (Judicial) and the Florida Department of Transportation, District Seven, Ben G. Watts Award for Ethical Leadership and Integrity. He was also honored to serve as Chairman of the Florida Bar Standing Committee on Professionalism and on numerous Bar Committees, including the Florida Bar President's Vision 2016 Commission, the Eminent Domain Committee, the Florida Supreme Court Capital Post Conviction Proceedings Subcommittee and the Florida Bar Supreme Court Commission on Professionalism.
For over ten years, Lamar served as an Adjunct Professor at Stetson College of Law, teaching trial advocacy. He is married to Vivian Arenas-Battles. Lamar joined the firm of Zinober Diana and Monteverde P.A. on January 3, 2023 and focuses his practice solely in the areas of mediation and arbitration.
Education
The Army Judge Advocate General's Graduate Course, Charlottesville, Virginia

LLM Equivalent (Commandant's List) – 1985

University of Florida College of Law, Gainesville, Florida

Juris Doctor (with Honors) – 1980

Florida Southern College

Bachelor of Arts (Cum Laude) – 1973
Major: History/Political Science
Professional Associations
The Florida Bar, Member, 1980 to Present
Hillsborough County Bar Association, Member, 1995 to Present
Military Officers Association of America, 1995 to Present
American Legion, 1995 to Present
Practice Areas
Mediation
Arbitration
Special Master
Expert Witness
Bar Admissions
United States Supreme Court
Supreme Court of Florida
United States Court of Appeals for the Fifth and Eleventh Circuits
United States Court of Federal Claims
United States District Court for the Middle District of Florida
United States District Court for the Southern District of Georgia
United States Court of Appeals for the Armed Services
United States Army Court of Military Review
Certifications
Florida Supreme Court and United States District Courts for the Middle and Northern Districts of Florida Certified Civil Mediator
Florida Supreme Court Qualified Arbitrator
Honors
Hillsborough County Bar Association Robert Patton Outstanding Jurist Award
The Florida Council on Crime and Delinquency, Chapter 1, Distinguished Service Award (Judicial)
The Florida Department of Transportation, District Seven, Ben G. Watts Award for Ethical Leadership and Integrity.
Martindale-Hubbell's "AV" Rated
Languages
Past Positions
Florida 13th Judicial Circuit Court Judge, 2002 to 2022
Florida Department of Transportation, District Seven, Assistant General Counsel, 1995 to 2001
United States Army, 1973 to 1995
Current Position